For the second year in a row, The Arbor Company has been honored with a Great Place to Work Certification.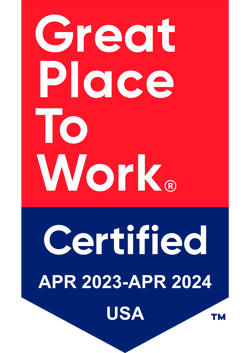 The Atlanta-based senior living company earned the certification from Great Place to Work, an independent research and consulting firm, which surveyed over 3,000 employees in more than 40 senior living communities operated by The Arbor Company.
"Our team has worked very hard to create a culture of caring: caring for our residents, caring about our work, and caring for each other," said Judd Harper, president of The Arbor Company. "This Great Place to Work recognition reflects that. Our Arbor people strive to create deep connections with residents and their families. We know we are making a difference in the lives of the seniors we serve every day, alongside a team of professionals who care about seniors and each other, and that makes The Arbor Company a great place to work."
Great Place to Work's data-driven methodology confirmed that at least seven out of 10 employees have a consistently positive experience working for The Arbor Company. The surveys evaluated more than 60 elements of team members' job-related experiences, including pride in the organization's community impact and a belief that their work is meaningful and makes a difference. Rankings are based on employees' experiences, no matter who they are or what they do.
"We applaud The Arbor Company for seeking certification and releasing its employees' feedback," said Dr. Jacquelyn Kung of Great Place to Work's senior care affiliate Activated Insights. "These ratings measure its capacity to earn its own employees' trust and create a great workplace for high performance."
Harper added that all team members who join the company are immersed in The Arbor Company's service vision and culture, The Arbor Way, which says: "As a community of caregivers, we are here for one purpose: to engage and enrich the health and spirit of our residents. We honor individuality and celebrate each person's unique life through deep connections with our residents, families and staff. We create delightful surprises and meaningful moments within a safe and caring community. We listen. We respond. We care."
"Our employees share that vision, and it makes The Arbor Company a great company as well as a great place to work" he said. "It is an honor to work alongside such a passionate and caring group of individuals."